The next delivery to the UK will be in March 2021. Prices are exclusive of future import duties and exclusive of 21% VAT.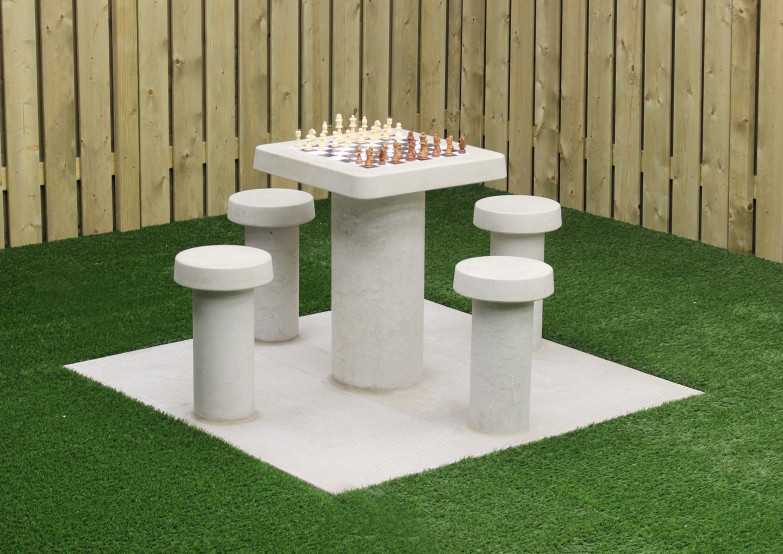 Concrete Chess Table, natural concrete, seats 4 people
This concrete set consists of a bottom plate with a chess table and four seats.
Like all other tables and benches of HeBlad, this table is moulded entirely in one piece of high-quality concrete. The bottom plate measures 149 x 149 cm.

In case you want to place the table in a park, the plate can be levelled with the grass so that the upper side of the concrete plate matches the cutting height.

Placing is included in the price. Preliminary work must be finished before delivery.
This concrete Chess Table is made of natural concrete. The "Concrete-look" is an imposing picture.

The 64 fields (32 white and 32 black) are made of marble and hard granite rock and integrated into the concrete.
The table is weatherproof.

By ordering this chess table you receive 2 sets of chess figures with the delivery, free of charge.

Specifications
Product code

GT.CH.4
Colour

Natural concrete
Dimensions (L X W)

149 x 149 cm
Height tabletop

75 cm
Seat height

50 cm
Dimensions tabletop

60 x 60 cm
Tabletop thickness

7,2 cm
Weight

900 kg
£ 2,525.00
excl. VAT
(£ 3,055.25 incl. VAT)
2nd product and following for
£ 2,025.00
each, save
19%
!
Free delivery in the United Kingdom
Delivery time is 0 to 6 working weeks. Average delivery time is 16 business days.
References
| | | | | |
| --- | --- | --- | --- | --- |
| Customer | Product | Placed | Location | Photo |
| Kastrupgårdskolen | Chess Table Natural Concrete (4P) | 20-01-2021 | Kastrup | |
| Schule Tremser Teich | Chess Table Natural Concrete (4P) | 19-11-2020 | Lübeck | |
| Realschule Horkesgath | Chess Table Natural Concrete (4P) | 29-09-2020 | Krefeld | |
| Asielheime | Chess Table Natural Concrete (4P) | 27-08-2020 | Issum | |
| Terra Nigra Praktijkschool | Chess Table Natural Concrete (4P) | 18-03-2020 | Maastricht | |
| Centre technique Municipal | Chess Table Natural Concrete (4P) | 22-07-2020 | Lodève | |
| Hornsea promenade | Chess Table Natural Concrete (4P) | 03-07-2019 | Hornsea | |
| Gemeente Amsterdam | Chess Table Natural Concrete (4P) | 01-11-2018 | Amsterdam | |
| Kämmer International Bilingual School gGmbH | Chess Table Natural Concrete (4P) | 08-05-2018 | Hannover | |
| Justizvollzugsanstalt Freiburg | Chess Table Natural Concrete (4P) | 07-05-2020 | Freiburg im Breisgau | |
| Truckparking | Chess Table Natural Concrete (4P) | 11-09-2019 | Tilburg | |